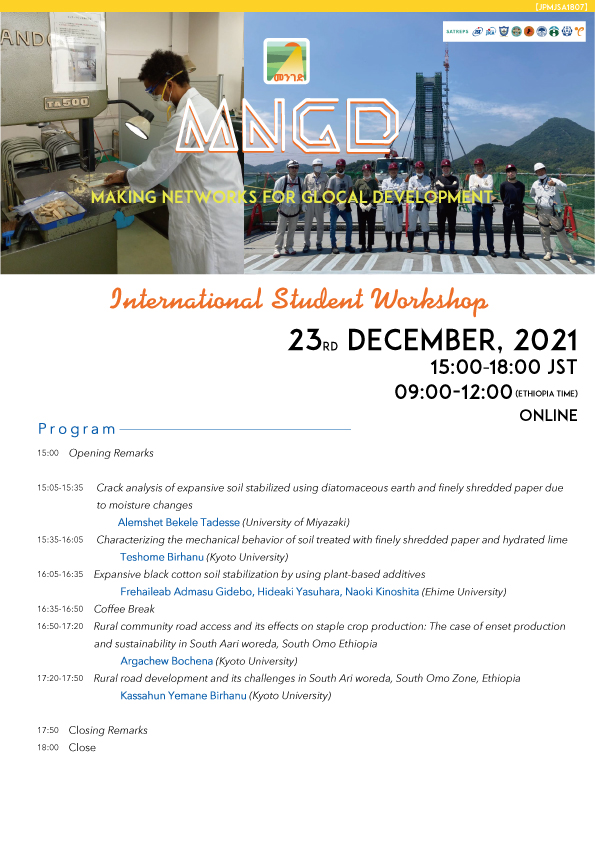 The workshop will be held online on Thursday, December 23, 2021(15:00 to 18:00 JST, 9:00 to 12:00 Ethiopian time).
PhD students from Miyazaki University, Ehime University, and Kyoto University will present their research results.
MNGD International Student Workshop
Date: 23rd December 2021
Time: 15:00-18:00 (Japan Time) / [09:00-12:00 (Ethiopia Time)]
Venue: Zoom (Online)
Each presenter has 20 min presentation and 10 min discussion.
【Program】
15:00 / [09:00] Opening remarks
15:05-15:35 / [09:05-09:35]
1) Crack analysis of expansive soil stabilized using diatomaceous earth and finely shredded paper due to moisture changes
Alemshet Bekele Tadesse (University of Miyazaki)
15:35-16:05 / [09:35-10:05]
2) Characterizing the mechanical behavior of soil treated with finely shredded paper and hydrated lime
Teshome Birhanu (Kyoto University)
16:05-16:35 / [10:05-10:35]
3) Expansive black cotton soil stabilization by using plant-based additives
Frehaileab Admasu Gidebo, Hideaki Yasuhara, Naoki Kinoshita (Ehime University)
>>>16:35-16:50 / [10:35-10:50] Coffee Break
16:50-17:20 / [10:50-11:20]
4) Rural community road access and its effects on staple crop production: The case of enset production and sustainability in South Aari woreda, South Omo Ethiopia
Argachew Bochena (Kyoto University)
17:20-17:50 / [11:20-11:50]
5) Rural road development and its challenges in South Ari woreda, South Omo Zone, Ethiopia
Kassahun Yemane Birhanu (Kyoto University)
17:50-18:00 / [09:00] Closing remarks